AZALEA is a sub-unit under Aqours. The unit consists of three members, namely Kanan Matsuura, Dia Kurosawa, and Hanamaru Kunikida.
Group Formation
The group was formed in phases:
On December 2015, six different configurations were offered to be chosen from.
On January 2016, the unit compositions were revealed, and people were asked to submit names for them.
On March 2016, the choices for unit names were revealed.
On April 2016, the chosen unit names were revealed.
Etymology
Due to the image presented by the members, many of the name submissions had meanings emphasizing elegance, gentleness, and the traditional image the members have. Other highlighted submissions are "Pione," and "KANARIA."
AZALEA's name was taken from the prefecture flower of Shizuoka, the Azalea. In Flower Language, Azalea means "patient" or "modest," which reflects the image of the unit.
Group Introduction
Their group introduction goes:「恋の喜び咲かせます、AZALEAです。」 ("Koi no yorokobi sakasemasu, AZALEA desu"), which translates to "Blooming with the joy of love, we are AZALEA".[1]
Songs
All of Aqours's songs and albums can be found here.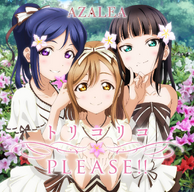 AZALEA's first single is "Torikoriko PLEASE!!".
Tracks:

Release Date: May 25, 2016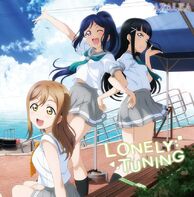 "LONELY TUNING" is a bonus CD by AZALEA for purchasing the entire set of Season 1 Blu-ray Volumes from Sofmap.
Tracks:

Release Date: March 24, 2017
AZALEA's second single is "GALAXY HidE and SeeK".
Tracks:

Release Date: May 31, 2017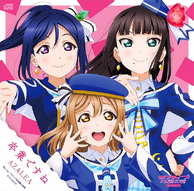 "Sotsugyou desu ne" is a bonus CD by AZALEA for purchasing the entire set of Season 2 Blu-ray Volumes from Sofmap.
Tracks:

Release Date: June 22, 2018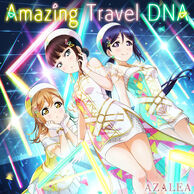 "Amazing Travel DNA" is a Love Live! School Idol Festival collaboration single sung by AZALEA.
Tracks:
Release Date: December 11, 2019
Other Data
Unit Introduction[2]
Unit B: The sisterly trio with both elder and younger sister types. Kanan x Dia x Hanamaru (Traditional Japanese Type)
Matsuura Kanan: We'll work hard as the long-haired trio!♪
To have the third years Dia and myself grouped together with the first year Maru-chan--- it incidentally ended up being the long-haired trio huh♪ What songs we'll end up singing is still a matter of the future, but somehow I'm already excited and looking forward to it--- It would be great if you would sing with us too♡ From here onwards, we'll all work hard!
Kurosawa Dia: We'll show you our adult charms♡
The three of us--- It seems like the members possessing a calm atmosphere and lady-like grace have been gathered together♡ It's a promise, to show you our adult charm that's different from the usual glamorous yet boisterous 9-member version of Aqours. Look forward to this clever and cool unit, okay?
Kunikida Hanamaru: I'll just have to follow the lead of these reliable two zura!
Being surrounded by the stylish Dia-chan and Kanan-chan--- I'm a bit embarrassed zura... But if it's come to this, I have no choice but to follow these two, right. As Yohane-chan said, what's important for idols is both resigning yourself to what happens, as well as courage. Resignation is one of my specialties! I'll do my best zura♡
First Single Comments[3]
Torikoriko PLEASE!!
Matsuura Kanan
Since I'm always playing in the sea with the fishes--- becoming more like a maiden like this feels unexpected even to me! But it suits me more than I had imagined--- Maybe?
Kunikida Hanamaru
Being surrounded by these two kind and pretty elder sisters--- Maru somehow feels rather happy♡ I would be happy if I could convey this feeling to everyone zura♪
Kurosawa Dia
Combining good looks and talent, AZALEA is truly a unit that holds both brains and beauty. You'd better realize how charming we are♡
Trivia
AZALEA can be compared to either μ's' BiBi or lily white, but it is more similar to the latter.

AZALEA is composed of two third years and one first year like BiBi.
AZALEA gives a pure feeling and has a member of each attribute like lily white.

AZALEA first appeared in Kimi no Kokoro wa Kagayaiteru kai? during the first dance sequence. Strangely, the sub-unit group was not decided at the time.
Hanamaru, AZALEA's youngest member is the shortest while her voice actress Kanako Takatsuki is the tallest.
Gallery
References
↑

Dengeki G's Magazine January 2016 issue

↑

Dengeki G's Magazine July 2016 issue
Community content is available under
CC-BY-SA
unless otherwise noted.