CYaRon! is a sub-unit under Aqours. The unit consists of three members, namely group leader Chika Takami, You Watanabe, and Ruby Kurosawa.
Group Formation
The group was formed in phases:

On December 2015, six different configurations were offered to be chosen from.
On January 2016, the unit compositions were revealed, and people were asked to submit names for them.
On March 2016, the choices for unit names were revealed.
On April 2016, the chosen unit names were revealed.
Etymology
Due to the image presented by the members, many of the name submissions had meanings which emphasizes the members' energetic, sweet, and cute image.
CYaRon!'s name was a combination of the initial letters of the sub-unit members' first names ("C" of Chika, "Y" of You, and "R" of Ruby) to form a cute sounding name, CYaRon!.
Other highlighted submissions are "CoCoA" and "FiLLY."
Group Introduction
Their group introduction goes: 「千歌です」「曜です」「ルビィです」「三人合わせて、We are CYaRon! よろしくね」("Chika desu", "You desu", "Ruby desu", "Sannin awasete, we are CYaRon!, yoroshiku ne"). Which translates to "Chika" "You" "Ruby" "Trio together, we are CYaRon!, nice to meet you".[1]
Songs
All of Aqours's songs and albums can be found here.
CYaRon!'s first single is "Genki Zenkai DAY! DAY! DAY!".
Tracks:

Release Date: May 11, 2016
"P.S. no Mukougawa" is a bonus CD by CYaRon! for purchasing the entire set of Season 1 Blu-ray Volumes from Gamers.
Tracks:

Release Date: March 24, 2017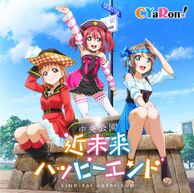 CYaRon!'s second single is "Kinmirai Happy End".
Tracks:

Release Date: May 10, 2017
"Sakura Baibai" is a bonus CD by CYaRon! for purchasing the entire set of Season 2 Blu-ray Volumes from Gamers.
Tracks:

Release Date: June 22, 2018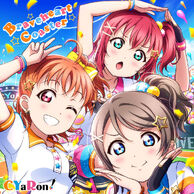 "Braveheart Coaster" is a Love Live! School Idol Festival collaboration single sung by CYaRon!
Tracks:
Release Date: December 4, 2019
Other Data
Unit Introduction[2]
Unit A: The three warm, fuzzy and energetic sunny maidens! Chika x You x Ruby (Pop & Cute Type)
Takami Chika: Everyone~! Support our energetic trio~!!
Everyone~, thanks for the ton of votes~!! The three of us are a mixed trio of second years and a first year♪ As the trio with the youngest average age, we won't lose to the other two teams--- At any rate, we'll do our best with all our energy and lots of sparkling smiles! From here onwards, please look forward to our unit activities♡
Watanabe You: It's a new voyage with the three of us, yousoro♪
While I was thinking "We've finally made our first single and PV~♪," next up is unit activities! I was so shocked by the incredible development that my eyes turned into wide circles! Ehehe--- But once the ship sets sail, it's the ship captain's mission to overcome all odds and lead everyone to the destination--- From here onwards, I'll do my best so please support me~♡♡
Kurosawa Ruby: Ruby will do her best so as to not be left behind by the other two!
Being separated from Maru-chan whom Ruby has always been with, and doing unit activities for the first time--- Ruby is a bit uneasy, but being an idol selected for unit activities is a very, very huge honor! Ruby doesn't have much self-confidence, but Ruby swears that she'll definitely do her best!! The two of them are kind so Ruby feels a bit more at ease♡
First Single Comments[3]
Genki Zenkai DAY! DAY! DAY!
Watanabe You
As always, since we only have confidence in our physical energy--- CYaRon! has become a unit full of energy, please support us! Yousoro☆
Takami Chika
In order to have our smiles reach everyone with all our energy, the three of us will work hard together! If you dance together with us, I will pass some of my energy to you~♪
Kurosawa Ruby
Just having Chika-chan and You-chan around, somehow Ruby also feels really energetic♡ I want this magic of CYaRon! to reach everyone too♪
Trivia
Gallery
References
↑

Dengeki G's Magazine January 2016 issue

↑

Dengeki G's Magazine July 2016 issue
Community content is available under
CC-BY-SA
unless otherwise noted.