This article is a stub. You can help by contributing any information to it.
Just press the edit button to start editing.
Interested about other ways you can contribute to the wiki? Go here.
But remember, before editing please check out the Rules!

Love Live! is a national tournament for school idols in Japan.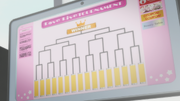 Details
First Love Live
In the first Love Live!, an idol group must be within ranks 1 to 20 in the national idol ranking in order to be able to participate. The rankings may change during the time before the event starts.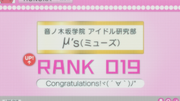 Second Love Live
After A-RISE won Love Live!, a second Love Live! was announced. The second tournament is much bigger than the first one. The concert arena is several times larger and the videos will be uploaded online with a live stream. For this tournament, all idol groups are free to join and will undergo preliminaries per region. However, an idol group can only perform an unreleased song for the preliminaries.
After the first round of the preliminaries, only four groups per region may advance to the final round of the preliminaries. The final round will then be held and the winner of the final round for each region will get to compete at the nationals.
Third Love Live
Not much is known about the third Love Live, but it is confirmed to be held at Tokyo Dome. The movie concludes with Bokutachi wa Hitotsu no Hikari where μ's is shown performing at Tokyo Dome which is most likely at the third Love Live.
Known Participants
First Love Live
A-RISE - Ranked 1st; winner of the First Love Live (from Tokyo)
Littele Tokyo - Ranked 2nd (from Tokyo)
girlish season - Ranked 3rd (from Hokkaido)
Lucky - Ranked 4th (from Okinawa)
Hello! Hello! - Ranked 5th (from Shizuoka)
Madonna - Ranked 6th (from Kyoto)
UC_G - Ranked 7th (from Tokyo)
OTEMO-YAN - Ranked 8th (from Kumamoto)
Dream - Ranked 9th (from Fukuoka)
μ's - Ranked 19th; withdrew (from Tokyo)
Second Love Live
A-RISE - Final Preliminaries qualifier (from Tokyo)
μ's - Final Preliminaries winner; winner of the Second Love Live (from Tokyo)
Midnight Cats - Final Preliminaries qualifier (from Tokyo)
East Heart - Final Preliminaries qualifier (from Tokyo)
Ever Never Girl - Final Preliminaries qualifier
Lemon Milk - Final Preliminaries qualifier
9RANE - Final Preliminaries qualifier
Third Love Live
Unknown