We're Getting Mutants in the MCU - The Loop
Play Sound
Love Live! School Idol Festival ALL STARS (ラブライブ!スクールアイドルフェスティバル ALL STARS, Rabu raibu! Sukūru Aidoru Fesutibaru ALL STARS) is a rhythm action game developed for mobile platforms, based on the Love Live! and related franchises. It is published by Bushiroad and developed by KLab Inc., and was released on September 26, 2019. It was first announced at Tokyo Game Show 2017 on September 21, 2017. Prior to the announcement, it was first introduced and teased on March 30, 2017 as the PERFECT Dream Project in conjunction with SIF's 4th year anniversary.
Love Live! School Idol Festival ALL STARS was designed with "the greatest, best idol game" as its concept. Characters from μ's, Aqours and Nijigasaki High School Idol Club appear within this game.
Gameplay
Lives

Overview

The non-daily songs have full dances, including 2-person, 3-person, 4-person, 9-person, 10-person, and 12-person formation dances in full group songs.
Through the usage of skills, you are able to evolve their performances to create your very own lives.
More than just a rhythm action game, it features a new live system.
Nurture your idols and aim to clear stages!

Details

Gameplay

In a change to the original School Idol Festival, even perfectly timing notes drains at least some stamina. As part of the compensation, some idols' skills can generate shields.
Each idol has three statistics: Appeal (how quickly she can generate Voltage, or score), Stamina (adding to the group's total Stamina) and Technique (how often Critical notes with a 50% score bonus appear – also affects the SP Skill's power if the idol is one of the first three on the roster).
In addition to the three previous attributes from the original School Idol Festival, there are three new attributes: Active, Natural and Elegant.

Compared with SIF, there are no individual Appeal, Stamina or Technique stats for each attribute, but matching the attribute to the song attribute still boosts the statistics.

There are also four new different types – Voltage (higher scoring but bigger Stamina drain), SP/Special (SP Gauge charges faster but skills activate less often), Guard (Smaller Stamina drain but SP Gauge charges slower) and Skill (lower scoring per note but skills activate more often).
Each idol has a Skill much like in SIF and one or two Abilities like a SIF Center Ability – however, in SIFAS, these Abilities are usable even if an idol is not the center.
Each group of nine idols is now split into three Strategy trios. When a switch gauge is full, players can change strategies, which gives a bonus and affects how the group is performing based on the type of the idols in the new Strategy trio. For example, switching to a trio with two Voltage types and one Skill type boosts scoring and skill activation rate at the expense of a quicker Stamina drain. Upon switching, you also get a boost based on a randomly selected idol's type in the Strategy trio that you swapped to.
When the SP Gauge is full, the player can trigger an SP Skill, which gives a big score boost and also boosts the score of successful notes for a few seconds.
Certain sections of the song marked on the timeline in pink and with Start and Finish notes are marked as Appeal Chances. Failing to clear the mission means a lot of Stamina damage, but clearing it boosts all score values of remaining notes in the Appeal Chance, removes their Stamina cost, changes swipes to taps and gives a score boost when the Appeal Chance is over.
Some notes will have unique buffs or debuffs.
Even if the song is a subunit song or a solo, meaning that not everyone chosen appears on stage, the full team of 9 that players pick is considered.

If one character is picked more than once in the same group of 9, the duplicates are replaced by the usual performers of the song in the dance CG although the stats still count (i.e. the player is not penalized).

Visuals

Unlocking a costume means a character may wear it even when the card it originally came from is not selected(It only does this when you unlock a card for a song. ex: If you have Aozora Jumping Heart Kanan, that outfit will be auto selected for her when you select the PV of Aozora Jumping Heart.).
Other visuals will respond to the characters chosen for a Live. For example, the colors of light sticks in the audience will change to reflect the image colors of performing characters even if they are not part of the original artists.
If a song is unlocked, even if it is not cleared, players may play the CG animation in a music video mode with the characters of their choice and costumes they have unlocked with no LP cost.

Story

Brand new main story featuring the activities within the groups and schools. The player character is someone from Nijigasaki who watched a joint live between μ's and Aqours. The player character is also Ayumu Uehara's childhood friend. They want to support school idols as much as they can and aim to hold a School Idol Festival with everyone.
Individual member stories that let you deepen your bonds with your favorite members.
Special SIFAS stories that go beyond the borders of simply groups and schools!

As an example, the initial event, Secret Party!, features Honoka, Chika, Ayumu, Kotori and You organizing and cooking for a surprise party at Homura Bakery for their fellow members.

The concept tagline for the stories is "The Story We Realise With You".

Nurturing Idols

SIF All Stars is classified in a unique genre: Rhythm Action RPG.
The school idols mature through club activities and clearing Lives.
A tree-based growth system is present, allowing a high degree of freedom.
Develop the school idols the way you want them through swapping skills.
SSR rarity is not present, so idols fall into R, SR and UR rarities.
You may also train three times per 12 hours in order to obtain items that the idols will need to progress along the skill tree to not only boost statistics and active and passive skills but also unlock side stories, new costumes and voice lines and also idolize. Some abilities called Insight Skills can only be found in Training.
Seals are not present in All Stars. Obtaining duplicates of a single card unlocks new nodes at the normal end of the skill tree. In place of them are two resources:

Shiny Quartz crystals that one can exchange for idols that are available. The stipulation is that one piece is earned for every idol scouted under that banner (at the price of 50 Star Gems each, so not counting a 10 Star Gem daily scout) and must be redeemed before the banner ends and the Quarts turns into Quartz Pieces.
School Idol Radiances that players can use in place of a duplicate. The higher the rarity, the more needed for an uncap.

Instead of each card having its own Bond Level like in SIF, each idol has her own Bond Level. Increasing the Bond Level both increases the parameters of all of that idol's cards and gives other rewards like Bond Episodes and Star Gems.

SIF ID

You are able to play both SIFAS & SIF using just the SIF ID system.
Depending on your rank and play statistics in SIF, you can also receive rewards in All Stars (for example, Rank 300 in SIF for a SIFAS UR Ticket).
The members of μ's & Aqours meet and support each other in the stories. Separate from the anime continuity, the two groups are in the same years of high school.[1]
Promotion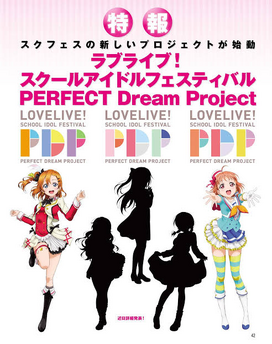 Before the project was teased, a popularity poll started in SIF which asked the players to vote for their favorite N rarity members. Emma Verde took first place, Shizuku Osaka in second, and Kanata Konoe placed third. When the project was first teased, a preview image showed the silhouettes of the three girls with µ's leader Honoka Kosaka, Aqours leader Chika Takami, and Nijigasaki's soon-to-be members; Emma, Kanata, and Shizuku. After revealing the three winners, six more silhouettes were added as new characters.
Promotion for the game has involved the first official cross-generational interactions of Love Live! characters and actresses under the franchise's banner. The announcement at Tokyo Game Show involved not only the announcement of the Nijigasaki High School Idol Club's voice actresses but also Anju Inami (Chika) and surprise addition Emi Nitta (Honoka) as co-hosts – the first time Aqours and µ's actresses had shared a stage under the franchise banner. Later that same month during the Aqours 2nd Love Live! HAPPY PARTY TRAIN TOUR, two previews were released of all 18 combined members of Aqours and µ's addressing each other in chibi form going back and forth between the two groups.
2018
On January 28th, an AbemaTV broadcast specifically promoting All Stars brought together three members each from µ's, Aqours and Nijigasaki. The hosts were the Aqours second-years' actresses – Inami (Chika), Rikako Aida (Riko) and Shuka Saito (You). Meanwhile, µ's was also represented by their second-years' actresses – Emi Nitta (Honoka), Aya Uchida (Kotori) and Suzuko Mimori (Umi) – while Nijigasaki was represented by the actresses for their Dengeki Online sub-team – Tomori Kusunoki (Setsuna), Miyu Kubota (Karin) and Mayu Sagara (Kasumi). The broadcast included original cross-generation voice dramas in the vein of what players could expect in the game stories.
On April 14th, the actresses of each group's voted picks as the SIF 5th Anniversary campaign girls – Sora Tokui (Nico), Aika Kobayashi (Yoshiko) and Kusunoki – also hosted the SIF 5th Anniversary special.
On May 20th, three members of each group took part in a special panel at the SIF Thanksgiving Festival in Osaka, with the lead hosts being Aqours' Guilty Kiss actresses – Aida, Kobayashi and Aina Suzuki (Mari). For µ's, Nitta Emi and Mimori returned and were joined by Riho Iida (Rin), while Nijigasaki was represented by the actresses for their SIF sub-team – Maria Sashide (Emma), Kaori Maeda (Shizuku) and Akari Kito (Kanata). The panel included updates about All Stars' gameplay and storyline, including the first fully rendered performance for the game.
On September 20th, three groups took part in a special panel for Tokyo Game Show 2018: Emi Nitta was present to represent µ's, CYaRon! to represent Aqours, and all the members of Nijigasaki School Idol Club. They debuted the Opening movie TOKIMEKI Runners which included all the members of µ's, Aqours, and Nijigasaki School Idol Club. During the broadcast they mentioned that Love Live! School Idol Festival ALL STARS will be released in 2019. No additional details about the release month or day.
2019
On March 30th, after Nijigasaki High School Idol Club's Campus Matching Festival (mini-live and talk event), @lovelive_staff on Twitter announced that they will publish 9 PVs of the Nijigasaki High School Idol Club members' solo songs at midnight.
On May 30th, during the Love Live! 9th Anniversary Special Livestream, they have announced a collaboration single KOKORO Magic "A to Z" with CG animation PV for Aqours to be released on October 30. They also announced a Fall 2019 release window.
On August 17th, a video published on Love Live!'s YouTube channel announcing the opening of the game's official Twitter account as well as follow campaigns where winners can win up to 200 tickets for Love Live! Fes in January.
On August 18th, the game's official Twitter account started introducing the 27 characters, one character per day, starting with Honoka Kosaka and ended with Rina Tennoji on September 13th.
On September 4th, Love Live!'s YouTube channel published the in-game PV of Aqours' collab single, KOKORO Magic "A to Z". The CD/BD releasing on October 30th will contain a serial code for the game.
On September 9th, @LLAS_STAFF on Twitter published a video clip preview of the updated home screen interface and reiterated that more info will come during SIF's 6th Anniversary Thanksgiving Festival on September 21st and 22nd.
On September 12th, @LLAS_STAFF published another video clip previewing the Training mode, giving a quick look at the school idol progression trees.
On September 13th, the instant win RT campaign began and will span until September 30th. Each day, @LLAS_STAFF will tweet a campaign tweet and by retweeting them, you will instantly receive a reply containing a video clip of a random in-game Kizuna story with the lottery result at the end of the video.
On September 17th, the release date was officially confirmed by the App Store to be September 30, 2019. Promotional images, PV's, and new reveals of initial UR cards for µ's members were shown as well, and pre-registration/pre-ordering pages were set up.
On September 20th, the release date is pushed ahead to be scheduled to be released on September 26th.
On September 22nd, it is announced there will be a global version of this game. Languages supported are English, Traditional Chinese, Korean, and Thai.
On September 26th, the game was finally released, two years after it was first announced.
On December 8th at CharaExpo USA 2019, they announced a Spring 2020 window for WW Version.
2020
On February 12th, the release date was officially confirmed by the App Store to be out on February 25, 2020. Promotional images, PV's, and new reveals of initial UR cards for µ's members were shown as well, and pre-registration/pre-ordering pages were set up.
Songs
Songs marked with an asterisk (*) are limited-time songs.
Songs marked E are available in Expert difficulty only.
Songs marked C are available in Challenge difficulty.
Regular
Nijigasaki High School Idol Club
Notes:
1 SUPER NOVA, Dream Land! Dream World! and Sing & Smile!! were originally daily time-limited songs, before they were added to regular live show mode on December 7, 2021, November 7, 2021 and January 7, 2022 respectively. They were replaced in Daily Songs by THE SECRET NiGHT, Maze Town and Swinging! respectively.
2 A Song For You! You? You!! was originally a time-limited song, before it was added to Challenge difficulty on February 14, 2022, and eventually permanently on May 7, 2022.
Daily
Video
Previews
Promotional Broadcasts
The January AbemaTV broadcast was subtitled in English by Team Onibe. Parts 4 and 5 of that broadcast include the Aqours first-years' and third-years' actresses in a contest to see who can cook fried rice and gyoza (Umi's listed favorite dish.)
Version History
See here.
Items
List of items found here.
Gallery
List of cards found here
Key Visuals
---
In-Game
External Links
Official websites
Other Links
References