Cobra Kai Season 4 - The Loop
Play Sound

Love Live! School idol festival ~after school ACTIVITY~ (ラブライブ!スクールアイドルフェスティバル ~after school ACTIVITY~, Love Live! School idol festival ~after school ACTIVITY~) is an arcade version of Love Live! School idol festival. It was first announced to be in production on November 27, 2015 and was made available for play on December 6, 2016.
Aqours was first announced to be added to the game on October 20, 2017. Aqours was added to the game with the Love Live! School Idol Festival: After School Activity Next Stage update on December 6, 2018. It was announced on October 26, 2020 that the game will receive a final update on November 10, 2020. No new songs or cards will be added passed that point, essentially ending support for the arcade version.
On October 10th 2020, it was announced that a port to the Playstation 4, titled Love Live! School idol festival ~after school ACTIVITY~ WaiWai! Home Meeting!!  was in development. This version of the game was also announced with English language support, notably being the first iteration of the game to be released outside of Japan and in another language. It was released worldwide on March 24th 2021.
Songs
In the arcade version, certain songs are unlockable through NESiCA card playtime, such as solo songs and sub unit songs. In the PlayStation 4 version, a large majority of the catalog of songs are paid downloadable content, though there are 8 songs that are included in the free base version. All 127 songs are fully playable in both versions of the game. The full list of playable songs can be found here.
Videos
Basic Operation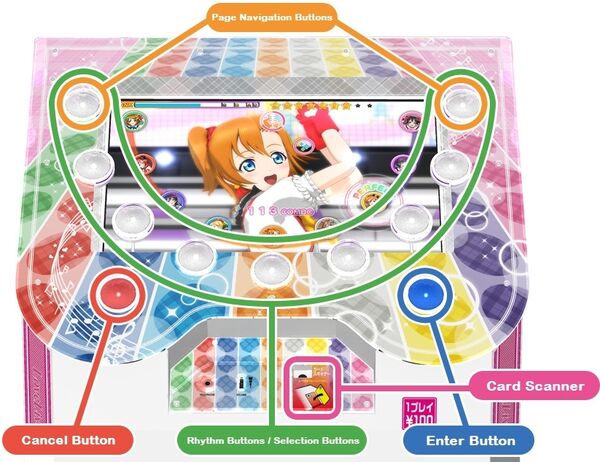 How to Play
Rhythm icons will fly towards the judge rings. Push the corresponding rhythm buttons at the best timing!
★ Long Notes
When rhythm icons with trailing white bands appear, hold the rhythm buttons until the end of the bands!
★ Simultaneous Notes
Rhythm icons with horizontal lines will have you push both corresponding rhythm buttons at the same time!
★ Card Scanner
Load the QR code of the profile card you received from a friend with the card scanner!
How to Use Cards
Member Cards: Enjoy the lives with your favorite outfits!
When you obtain a new member card, you may enjoy your next live in that outfit.
Obtaining member cards you have yet to possess allows you to play more unit-exclusive songs.

Skill Cards: Experience your own unique lives by setting skill cards!
From 3 types of attributes, you may build your own skill composition.
Set Assist Skill Cards to support your game play.
Set Camera Skill Cards to change the camerawork.
Set Stage Skill Cards to activate different stage productions.


Profile Cards: Load profile cards and further your live progress!

You may save your play data with a profile card. You can enjoy cooperative play by exchanging and loading your profile cards with your friends.
※Only one friend may use the same profile card at a time.
Gallery
Links